Art, science collide in play, gallery for science festival
---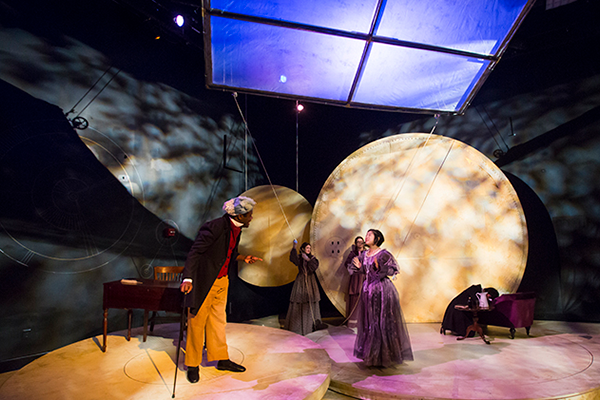 Science and the arts come together at Oxford in a play and interactive gallery that are part of the Atlanta Science Festival.
Oxford invites the public to view a play written by an Emory alumna about women in the STEM field – science, technology, engineering and math – combined with an interactive art gallery showcasing women in history in STEM.
"This event evolved from a seed of an idea where we wanted to do something that combines art and science, but weren't sure what," says Sarah Fankhauser, assistant professor of biology at Oxford. "We realized we wanted a more all-encompassing event so that people felt immersed in the world of women's contributions to STEM."
In seven performances between February 28 and March 23 at Tarbutton Theater, Oxford presents Ada and the Engine, a play written by Lauren Gunderson, Emory class of 2004. During the British Industrial Revolution, Ada Byron Lovelace, daughter of the flamboyant and notorious Lord Byron, works as a poet, mathematician and computer programmer, envisioning a world where art and information converge. It portrays her struggles as a female in the male-centered field of STEM.
"The piece is funny and moving, and the ending is surprising and theatrical," says Nick Fesette, assistant professor of theater studies at Oxford.
The March 21 and 22 shows are officially part of the Atlanta Science Festival, but each performance is open to the public.
"Oxford is one of the farthest sites from Atlanta proper that participates in the Atlanta Science Festival, so it's important as a community to continue our participation and provide opportunities for our students and greater community to experience science in fun and engaging ways," Fankhauser says.
"This year is especially special because this event showcases the strengths of Oxford's liberal arts and the coming together of seemingly distinct fields – arts and sciences," she adds.
When Fesette was approached with the possibility of producing a spring play with connections to science and math, Gunderson's work came to mind.
"She's an incredibly popular playwright who has written several feminist plays about the history of science, and I knew she was an Emory alumna," Fesette notes. "I thought doing one of her pieces would have intriguing overlaps with our goals for the event."
Starting at 5:00 p.m. on each day of the performances, a Reviving Ada multimedia interactive art gallery curated by Oxford students will be on display in the Tarbutton Lobby. Featuring women throughout history in STEM fields, it features paintings, sculptures and even a virtual reality piece, all designed by students studying a variety of majors at Oxford.
"We wanted to show the duality of science and art," says Victoria Cespedes, a second-year student from Elkins, West Virginia, majoring in biology and art history, who helped facilitate the event. "When you're in the theater in music and set design, a lot of science goes into that, too."
This is the third year that the Atlanta Science Festival has featured an event at Oxford. In 2018, the college featured a screening and panel discussion about Chasing Coral, a Sundance Award-winning documentary focusing on the spread of coral bleaching. And in 2017, the hosted a native Georgia animal touch-and-learn exhibit.
"The public is brought into a scientific world in an engaging way," Fankhauser says about the Atlanta Science Festival events at Oxford. "It makes science fun and accessible and showcases our students."
The public – from middle school aged students and fellow Oxford students to Oxford residents and those simply interested in science or women in STEM – can see the performance of and the Engine at 7:30 p.m. on Thursday, February 28; Friday, March 1; Saturday, March 2; Thursday, March 21; Friday, March 22; and Saturday, March 23; as well as 2:00 p.m. Saturday, March 2.
Tickets cost $5 and can be reserved online. 
After the March 1 show, Fesette will facilitate a post-show discussion focusing on the production and Gunderson's dramaturgy with student actors, the composer of the play's score, and Lisa Paulsen, an Emory College senior lecturer in theater studies and chair of Theatre Arts.
"This discussion will give audiences a chance to hear about the process of the work behind the scenes — what goes into mounting a production at Oxford College," Fesette says.
After the March 22 show, Fankhauser will facilitate the post-show discussion, featuring Christina Lee, a lecturer in mathematics and director of Oxford's Mathematics Center, and Beth Crompton, a computer scientist. The panel will focus on the themes of women in math and science and challenges faced by them and how those challenges are evident in the play.
The Atlanta Science Festival hosts other events around the state. Events kick off March 9 with a sold-out launch party, "Wow in the World Pop Up Party!" at 11:00 a.m. at Glenn Memorial United Methodist Church in Atlanta. Events run until Saturday, March 23, with a March for Science at 10:00 a.m. and Exploration Expo from 11:00 a.m. to 4:00 p.m., both at Piedmont Park in Atlanta.
Ada and the Engine Showtimes
7:30 p.m., Thursday, February 28
7:30 p.m., Friday, March 1
2:00 p.m., Saturday, March 2
7:30 p.m., Saturday, March 2
7:30 p.m., Thursday, March 21
7:30 p.m., Friday, March 22
7:30 p.m., Saturday, March 23
Post-Show Discussions: March 1 and March 22
View a special feature digital story on Ada and the Engine.
Learn more about Emory's connection to the Atlanta Science Festival.