Oxford Commencement features Rollins Dean Curran, Ga. Sen. Warnock
---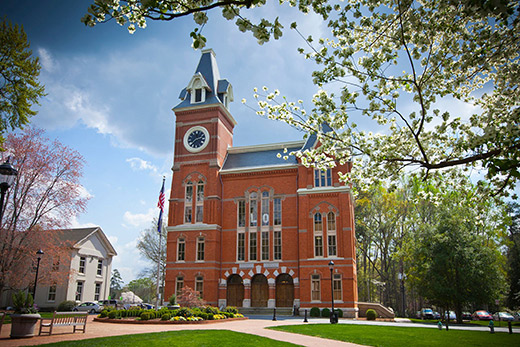 Oxford College will hold its 176th Commencement exercises on Saturday, May 15, at 10:00 a.m. Along with all of Emory University, Oxford will hold the ceremony in Atlanta's Georgia World Congress Center. James W. Curran, dean of Emory University's Rollins School of Public Health, will deliver the Commencement address.
"It is an honor to have Dean Curran as our speaker," says Dean of Oxford College Doug Hicks. "Jim is an influential academician who has guided the Rollins School of Public Health to its stature as one of the top U.S. programs, and his earlier groundbreaking work with HIV/AIDS and other public-health concerns has had a profound effect on our national well-being. He will be a compelling and timely speaker for our graduates and guests."
Curran has served the Rollins School as dean and professor of epidemiology since 1995. He also is co-director of the Emory Center for AIDS Research and holds faculty appointments in the Emory School of Medicine and the Nell Hodgson Woodruff School of Nursing.
Curran joined Rollins after 25 years of leadership at the Centers for Disease Control and Prevention, where he attained the rank of assistant surgeon general.  In 1981, the CDC tapped Curran to lead a task force charged with determining what was behind the first cases of what we now know as AIDS.
In addition to Dean Curran's address, the ceremony will feature congratulatory remarks to the graduates from U.S. Senator Raphael Warnock (D-Ga.), which will be recorded earlier and played during the ceremony.
"Not only are we delighted that Dean Curran will serve as our speaker, we are grateful to hear celebratory greetings from Senator Warnock as part of Oxford's Commencement," adds Hicks. "This is a wonderful combination of two leaders whose voices will each add insight into the social challenges of our time — the global public health crisis and the quest for a more inclusive and equitable society."
Curran earned his undergraduate degree from the University of Notre Dame, an MD from the University of Michigan, and a master of public health degree from Harvard University. The author or co-author of more than 270 scholarly publications, he was elected to the Institute of Medicine of the National Academy of Sciences in 1993. He received the Surgeon General's Medal of Excellence in 1996 and the American Public Health Association's John Snow Award in 2003. In 2015 he was elected to the American Academy of Arts and Sciences.
Warnock was elected in January to serve in the United States Senate. He is also the senior pastor of Ebenezer Baptist Church in Atlanta, the historic congregation that the Rev. Dr. Martin Luther King Jr. also served. A graduate of Morehouse College, he holds an MDiv and PhD from Union Theological Seminary in New York.
Commencement exercises for 2021 will be observed with an eye to COVID-19 protocols. Oxford graduates may attend in person, accompanied by up to two guests. Oxford graduates unable to travel to Atlanta for the ceremony will be saluted virtually, and they and the public will be able to watch the ceremony via live-streaming. 
A video of Oxford's baccalaureate will air on Friday, May 14, at 3:30 p.m. In keeping with Oxford's tradition, the interfaith ceremony will feature music, prayers led by student religious organizations, and remarks from Oxford College Chaplain Lyn Pace.