Oxford College hosts 2023 Martin Luther King Jr. Celebration
---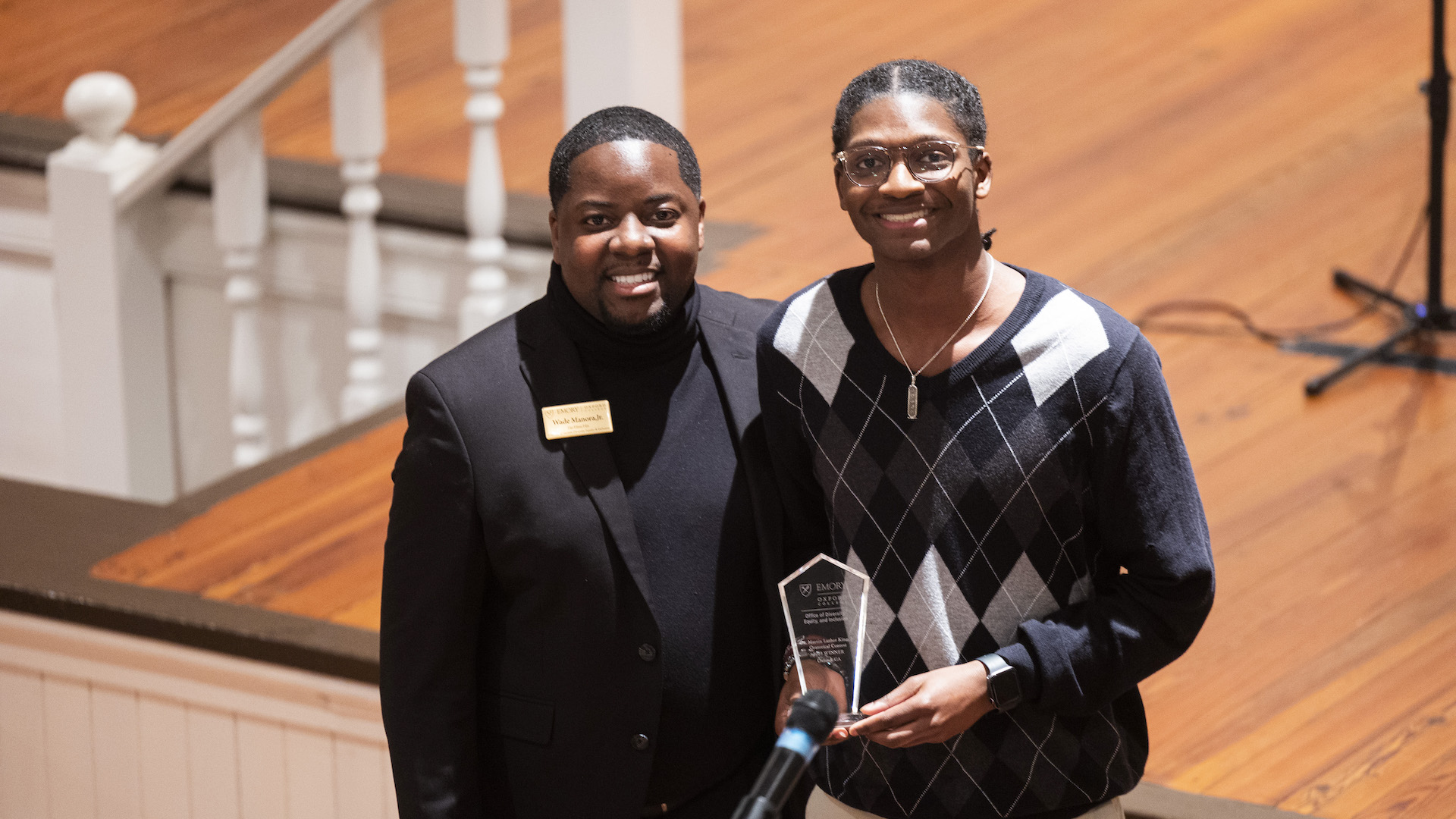 The Oxford and Covington community joined together for the annual celebration of the life and legacy of Dr. Martin Luther King Jr.
As part of Emory's King Week, Oxford College hosted its annual Martin Luther King Jr. Celebration to a full house at the historic Old Church on Tuesday, January 17—the first time the event has been held in-person since 2020.
Co-hosted by the Office of Diversity, Equity, and Inclusion and the Office of Religious and Spiritual Life, this year's event featured a keynote address from Marla Frederick, Asa Griggs Candler Professor of Religion and Culture at Emory's Candler School of Theology, as well as performances from Oxapella, a string quartet, and the Interdenominational Community Choir from Newton County—directed by Valerie Bentley with pianist Antwon Barr. Frederick was introduced by Oxford MLK Scholar Gonzalo Barreto-Roballo. Oxapella and the string quartet were respectively led by Emorja Roberson and Marvin McNeill, both Assistant Professors of Music and African American Studies.
"This year's King Celebration brought an even more pronounced energy and enthusiasm as we returned to it in person for the first time in three years and with over 200 people in attendance," said Lyn Pace, Oxford Chaplain, who was one of the key organizers of the ceremony. "Seeing our college community and the broader Oxford and Covington community together in this space embodies the message and work Dr. King was about."
The evening also featured remarks from Wade Manora Jr., Director of Student Diversity, Equity & Inclusion (ODEI), whose office helped facilitate the inclusion of student voices in the program. ODEI coordinated with the Black Student Alliance, and the club's two co-presidents—Jordan Antwi and Doreen Okeh—provided the event's welcoming remarks. The office also sponsored the inaugural MLK Oratorical Contest, for which students submitted speeches that addressed a social justice topic of their choice in response to the famous Dr. King quote: "Darkness cannot put out darkness; only light can do that. Hate cannot drive out hate; only love can do that."
"I am so proud of all the students involved," Manora said. "They did a phenomenal job, and I know that they are proud of how they represented themselves, their community, and Dr. King's legacy in such a great way. I loved looking out and seeing so many students in the audience cheering on their friends. That level of support is what it is all about."
Ken Carter, Interim Dean of Oxford College, announced second-year student Dyson Stallworth as the winner of the Oratorical Contest. Stallworth's paper touched on the work he has done with Common Good Atlanta, a program founded by Oxford's own Assistant Professor of English Sarah Higginbotham that integrates college education into the Georgia prison systems. He went on to co-found a sister program and was part of an Oxford team that presented a policy brief to the Georgia Legislature highlighting the importance of education in the prison system. On campus, he serves in a number of notable positions: Vice President of Phi Gamma Literary Society, Historian for the Black Student Alliance, and as an ODEI Diversity Diplomat.
Stallworth took the podium to read from his speech, where he spoke of the transformative experience of his work visiting prisons through Common Good:
"It never fails that after I leave a visit to have a peer exchange with the incarcerated scholars, I leave feeling hopeful and inspired," he said. "Hopeful because I get to see that there are programs established that afford those in prison the opportunity to have a quality education that is accredited. The inspiration comes from me recognizing and acknowledging that change such as this is possible, not only through other people but through me as well."
Photos by Kay Hinton