Oxford to host reading with inaugural writer-in-residence DK Nnuro
---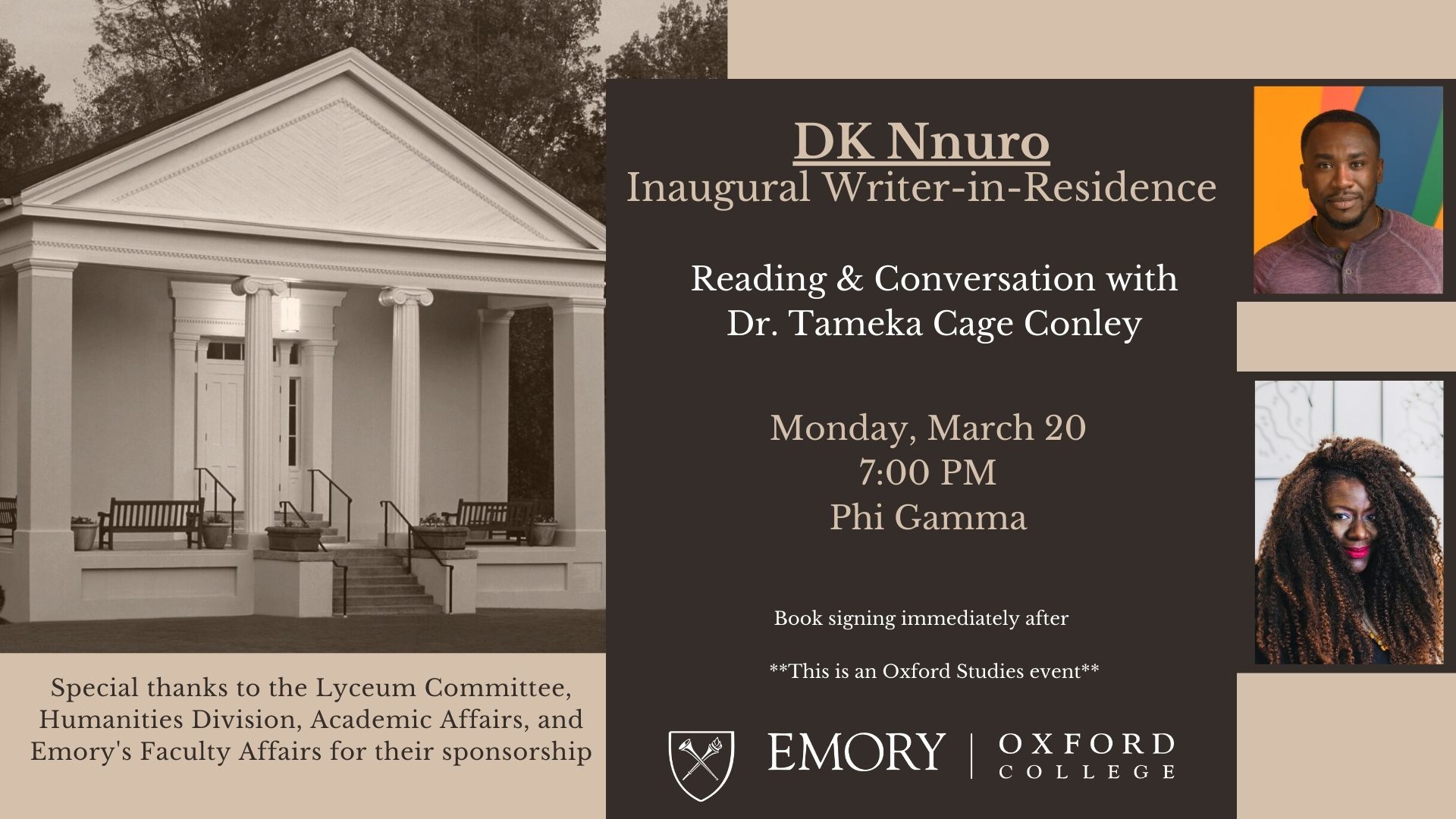 Oxford College launches its writer-in-residence program with a reading from award-winning author DK Nnuro.
DK Nnuro, an award-winning Ghanaian-American author whose work examines transatlantic Black identity, has been selected as Oxford's first writer-in-residence.
Curator for special projects at the University of Iowa Stanley Museum, Nnuro will read from his latest novel What Napoleon Could Not Do on Monday, March 20, at 7:00 p.m. in Phi Gamma Hall. The book follows two Ghanaian siblings trying to make a life for themselves in America.
After the reading, Nnuro will have a conversation with Assistant Professor of English and Creative Writing Tameka Cage Conley about his style and career, followed by a book signing and meet-and-greet. As part of the residency, he will also teach classes throughout the week and engage with students on their own writing projects.
"It is not lost on me that Oxford College of Emory University is known as an institution that prepares students to put their ideas to work," Nnuro said. "Part of that requires for the institution to be open to innovation, open to evolving. The inauguration of a new writer-in-residence program is testament to the fact that Oxford is an institution that is open and ready—especially open and ready to cultivate a vibrant ecosystem for the literary arts. To be the one chosen to help usher this very special institution into this new beginning will forever hold as one of the great privileges of my life. I am eternally grateful to Dr. Tameka Cage Conley and the rest of the Oxford community for this embrace."
"This residency is a direct result of the growth of creative writing at Oxford," said Conley, who founded the writer-in-residence program. "It is coming out of student interest—student talent and potential—and an innovative vision to bring what students need directly to them. Sometimes, people think writers are inaccessible, so bringing in someone whose book has gained significant praise—was just named one of the best of the year by Vulture—and having him be available to students all week was important to me." 
Nnuro will teach Conley's intro to fiction and intro to creative writing seminars from March 20-24. She believes students will respond to his rigorous approach to the craft of writing and will also see the value of building a network of support with fellow writers—just as Nnuro and Conley have done for each other over their many years of friendship and collaboration. Nnuro is looking forward to mentoring students and creating lasting relationships that extend beyond his visit to campus.
"I have to return to the idea of students putting their ideas to work because I am committed to being a conduit for this while on campus," he said. "I am the embodiment of what is possible when students are given the freedom to not just dream but create. So, I hope that my reading and the Q&A that will follow will inspire students (of all disciplines!) to not just dream but create."
As for what the community can expect from reading Nnuro's work, Conley said: "What I love about his writing is his ability to bridge so many worlds, because he's lived a transnational life. In What Napoleon Could Not Do, that includes the world of the immigrant, the world of the US Citizen, of the Ghanaian citizen, of the soldier and deserter. It feels like he's a magician. There is something in his voice that is very precise, very elegant, and yet very layered and unique. He always has a command of the language and an intimate awareness of how each character is affected by the other."
What Napoleon Could Not Do was published in February 2023 by Penguin Press and has received favorable reviews in outlets such as The New York Times and NPR. It is available for purchase at The Gilbert Bookstore in the Oxford Student Center. To learn more about Nnuro and the novel, click here.