Faculty Spotlight: Melissa Hage
---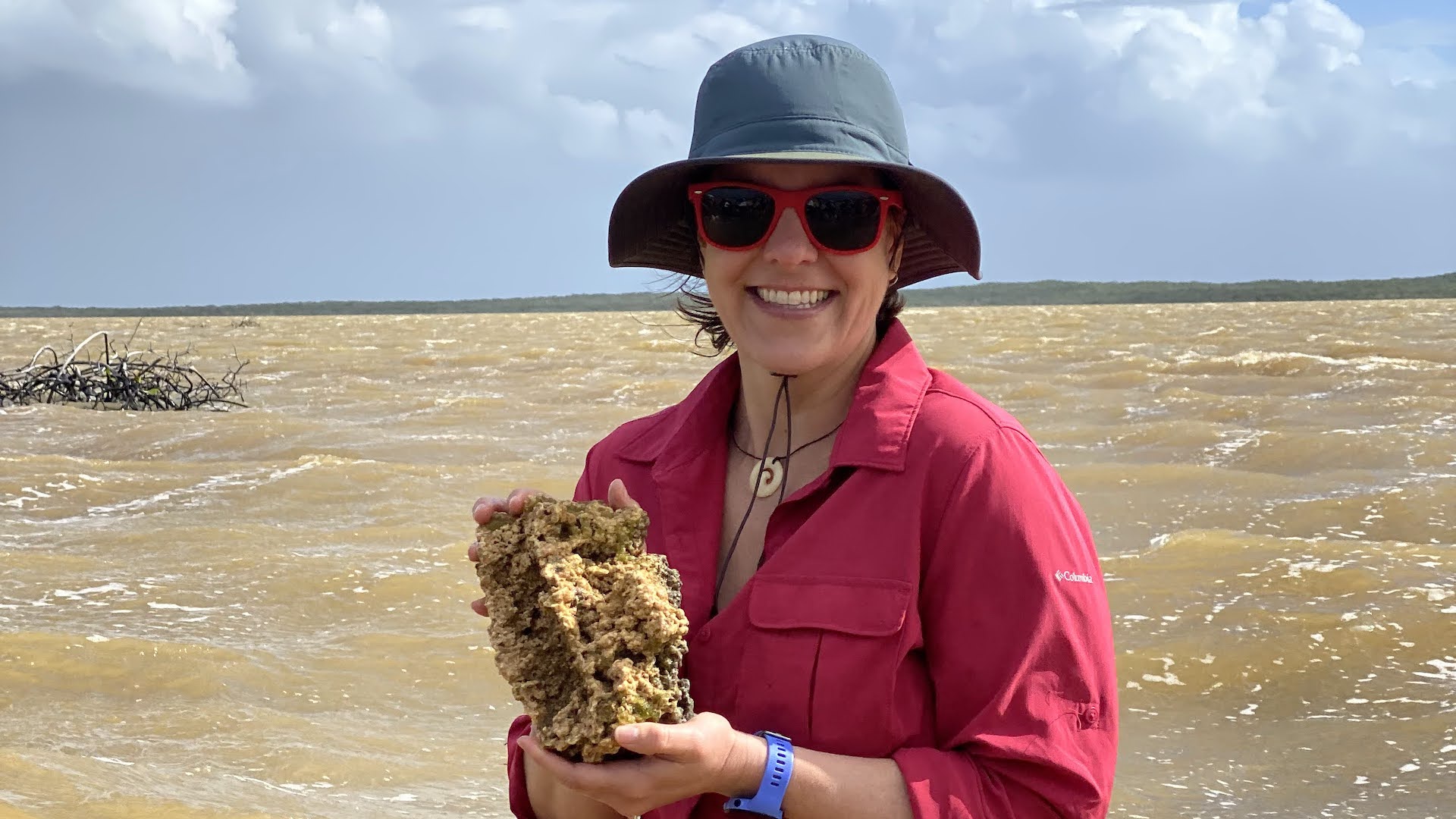 Environmental Science Professor Melissa Hage encourages students to engage with—and ask questions about—the natural world around them.
Since she was young, Melissa Hage has looked at the natural world with awe.
Now, as an assistant professor of environmental science, she brings that sense of wonder to the classroom, where she shares it with Oxford students by sending them out to interact with the raw material of the world.
"From an early age, I loved being outside and watching nature documentaries—seeing these spectacularly beautiful terrains," Hage said. "I was always drawn to them and wanted to better understand what was going on—to not just look at them as pretty places, but to get a deeper appreciation of how each place was formed and what made one place different than another."
She has spent her life doing just that. Originally from New Jersey, she attended Franklin and Marshall College—a small liberal arts school in southeastern Pennsylvania—to study biology and geology. She then completed her master's and PhD at the University of Tennessee Knoxville. The big draw to Tennessee, she says, was the opportunity to perform field research on modern microbial communities in the McMurdo Dry Valleys of Antarctica.
Hage came to Oxford in 2017 as the college's first-ever environmental science professor, having previously taught at the University of Wisconsin-Baraboo and Willamette University in Salem, Oregon. At Oxford, the opportunity to grow and develop a full environmental science program appealed to her, as did the close-knit community—which resembled her own undergraduate experience—backed with the resources of a major research university. She saw a place where she could form productive working relationships with not just colleagues, but students as well.
She quickly became a leader in the Emory science community and just last year was named Oxford's representative in the Emory Climate Research Initiative—a taskforce that includes one faculty member from each school. Designed by Provost Bellamkonda, the initiative explores where and how Emory can help understand and mitigate the effects of climate change.
"Working with first- and second-year students, I get to help them get excited about science," Hage said. "Even if students don't major in science, I try to leave them with the idea that they'll be going out into the world and making decisions about where they live, how they live, what kinds of corporations they're a part of, their purchasing power, and their voting power."
Regardless of what major a student selects, Hage hopes they can leave with skills, questions, and tools that will benefit them on their path of choice.
"I get a lot of students who are interested in business or law and in interdisciplinary thinking," Hage said. "The thing about environmental science is that, regardless of what they do, there is a connection. If we think about a business major, having people who want to run businesses sustainably is really important right now. We all inhabit Earth. We all live here. Having some idea of the basic processes that control our home is pretty important—especially with regard to the kinds of changes that are taking place on our planet."
Jordan Hasty 20Ox 22C took Hage's Introduction to Environmental Studies course, and soon found that her teaching—as well as his work study position at the Oxford College Organic Farm—was broadening his horizons. He worked with Hage one summer on his own research project, and after completing his sociology degree on the Atlanta campus, returned to Oxford to work as a fulltime apprentice at the Farm.
"In Dr. Hage's class, she taught me how to bring science down to earth," he said. "To look at the places around me and ask: Why are things this way? What are the effects of things being done this way? She made science feel real and relevant to my life. I truly believe her legacy as a professor is challenging students to think critically about how social arrangements influence our local and global environments, then empowering these students—of any career or lifestyle—with the skills to find and understand the science that can propel them to informed action."
Hage's classes are built on experiential learning. Almost every environmental science course available at Oxford has a research component—requirements that, for example, send students into their local ecosystems to collect real samples and test them with questions.
"There is no substitute for authentic student research experience and learning," said Simba Nkomo, Oxford Assistant Professor of Chemistry. "That's how Melissa works with her students. She holds them to a high standard."
Alongside Anthony Martin, a professor in Emory's Department of Environmental Sciences, Hage teaches a fieldwork course called "Modern and Ancient Tropical Environments." The course takes a group of students from the Oxford and Atlanta campuses to the Bahamas.
While out with students, Martin discovered an intriguing rock formation and later asked Hage and others for help identifying it. It is now considered the oldest known iguana burrow on the island and is one of the many sites students see on the trip. Hage and Martin, along with a number of student researchers, co-authored a paper published in PLOS-ONE about their findings.
These kinds of experience in fieldwork are what most inspire Hage. When students return from the Bahamas, their reflections often touch on key subjects of problem solving, resiliency, and dealing with the unexpected.
"Some relationships and processes we talk about in the classroom just don't hold true in nature," she said. "Generally, the same things are happening, but it's messier. These experiences help students learn a variety of non-science concepts. How do you solve problems on your own? How do you make interpretations? Fieldwork really increases confidence."
Hage collaborates with students to develop and explore their research ideas—as she did with Hasty—but she also involves students in her own long-standing research. And that of course means going out into the field.
Once a month, Hage takes a boat to Lake Varner—which uses solar-powered mixers to stir the upper portion of the lake to prevent algal blooms in what will soon become drinking water—and also to the Hard Labor Creek Reservoir, which does not have the mixers and is not currently used for drinking water. In these two lakes, Hage is looking to see what effects—if any—the mixer has on natural lake processes. Each semester, a student helps her collect samples and analyze the findings, and she has recently submitted a paper on the project with two former student co-authors.
Being out on the calm and quiet water emphasizes the ethos of Hage's academic approach: to be immersed in nature and to be curious about the processes of local environments.
"I think there's something cool in learning about your home area," Hage said. "Having a sense of place, asking yourself: What plants and what trees do I see here? What are the rocks under my feet? I think those questions really can help ground people."