Library exhibit showcases Arts and Social Justice Fellows Program at Oxford
---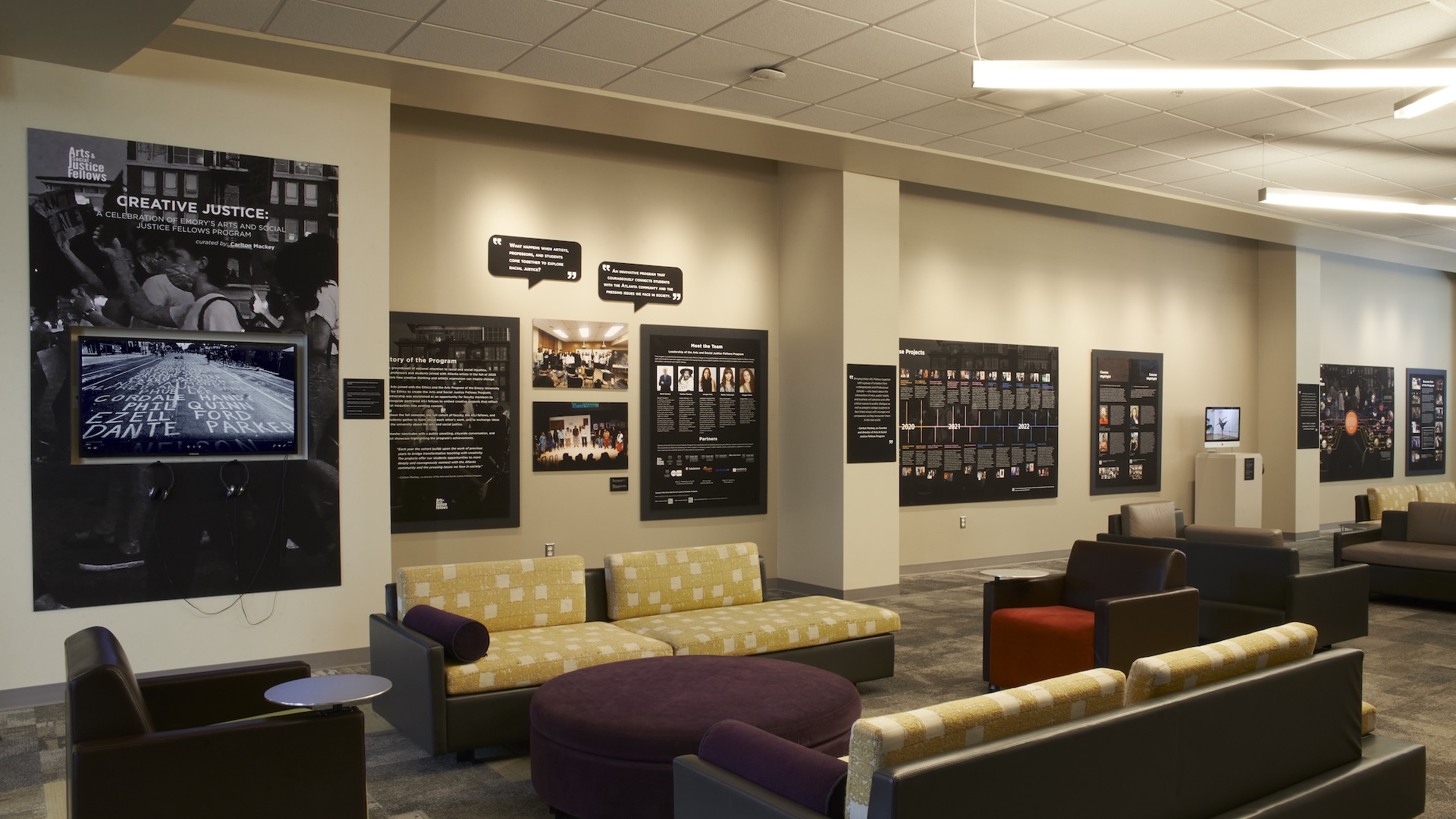 Oxford faculty and students collaborate with artists through Emory's Arts and Social Justice Fellows Program.
A new exhibit at the Oxford College Library highlights student work from classes taught jointly by faculty and artists on subjects related to social justice.

In the fall of 2020, after a summer of renewed national attention on racial and social injustice, Emory launched its Arts & Social Justice Fellows Program, a collaboration between artists and faculty designed to encourage students to think creatively and inspire change. The Library's exhibit—titled "Creative Justice: A Celebration of Emory's Arts and Social Justice Fellows Program"—looks at the program's origins, impact, and future. It is open through May 2024. 

Earlier in the spring, a larger version of the exhibit was on display at the Atlanta Campus. Over the summer, the Emory Libraries' exhibits team condensed it to focus specifically on Oxford's participation.

"We are grateful that Emory students had the opportunity to intersect with these artists and faculty," said Carlton Mackey, the program's co-director and Assistant Director of Education, Community Dialogue and Engagement at the High Museum of Art. "Hopefully, we are able to effect change in hearts and minds, not just at Emory but also in our communities."

To date, three Oxford faculty have been selected. Each professor was then paired with a fellow from Emory's Center for Ethics, the Arts, and Social Justice to co-teach a course that merges art and academics.

Alix Olson, assistant professor of women's, gender, and sexuality studies and Devon Goss, assistant professor of sociology, completed their courses in 2020 and 2022, respectively. Emorja Roberson, assistant professor of music and African American studies, is currently teaching his.
A library panel in October highlighted the perspectives of Olson; Goss and choreographer Leo Briggs, who taught their course together; student Virginia Cano 23Ox 25C; Program Coordinator at Emory Arts Jacque Pritz; and Adán Bean, a writer, emcee, and spoken word artist teaching with Roberson this semester.
"We know that everyone is busy and sometimes it feels like a luxury to take time to read through an exhibit," said Ellen Neufeld, Interim Director of the Oxford College Library. "We thought by having a panel, we could more fully understand the perspectives of the artists and faculty involved—plus we heard the reflections of a former Oxford student on the impact the course had on her."
Part of the inaugural cohort, Olson designed her course with Shanequa Gay, an Atlanta-based visual artist whose work "evaluates place, tradition, storytelling and the experiences of African-Ascendant people."  The class was titled "The Feminist Art(s) of Activism."
As part of their final project, students created "visual quilts"—collages that served as their Zoom background—to accompany spoken word poems on imagining a new future. The idea was inspired by feminist abolitionism and the work of Angela Davis, who, Olson says, "suggests that abolition is not about tearing down but building up from within."
The resulting video
became its own kind of collage, one that intercuts the perspectives of students, Olson, and Gay over a Zoom call.
"With the pandemic and the resurgence of the Black Lives Matter movement, we had a lot of discussions around what it means to imagine a world that we want and the role of art in facilitating that imaginative process," Olson said. "In the world of the university, we are sometimes trained to see different domains as wholly separable projects—like the work of arts and the work of activism. My goal was to demonstrate that these are overlapping areas and that much social activism has happened through artistic and aesthetic practices. If we just focus on scholarship, we're missing out on so many possibilities, people, and voices."
In the 2022 cohort, Goss and Briggs collaborated on an introduction to sociology course that incorporated dance and choreography. Briggs, a dance artist and Emory alum, helped students analyze ballet through a lens of gender performance. For a final project, students responded to the course's material in their artistic expression of choice, and Briggs choreographed
a live performance
for students inspired by their discussions throughout the semester.
"While I didn't originally know what I was in for, I am so glad I had the opportunity to participate in this program," said Cano, a psychology major who participated in the Goss and Briggs class. "Integrating sociology with dance was an incredible way to learn and understand the general power of art to help us process information. I use the lessons of Dr. Goss's class about how art can be a new way to express yourself in my everyday life and classes."
"I got a more holistic view of my students than I normally get," Goss said. "For example, I didn't know some of them were really amazing artists or had passions in media design or editing film. The biggest lesson I've taken away is to bring some of these artistic techniques into all of my classes, to use more creative means as a way to start conversations."
Roberson's course, currently in progress, looks at the history and musical tradition of the Black church during the enslavement period.
"We are analyzing the ritualistic practices that derive from traditions rooted in the African diaspora, how these rituals have evolved, and how it is applied to the current church," Roberson said. "In class, we study the art of preaching and its delivery by Black men and women. Students will assess the lyrical content of songs performed during various periods and explain how/if its themes have changed post-slavery."
On December 5, Roberson and Bean will participate in an Arts and Social Justice Project Showcase and Community Conversation.
Read more
about the event.
To learn more about the Arts and Social Justice Fellows Program, Neufeld encourages everyone to stop by the Oxford Library: "If you haven't had a chance to see the exhibit, please come visit us!"
View student work on the program's "Projects" page