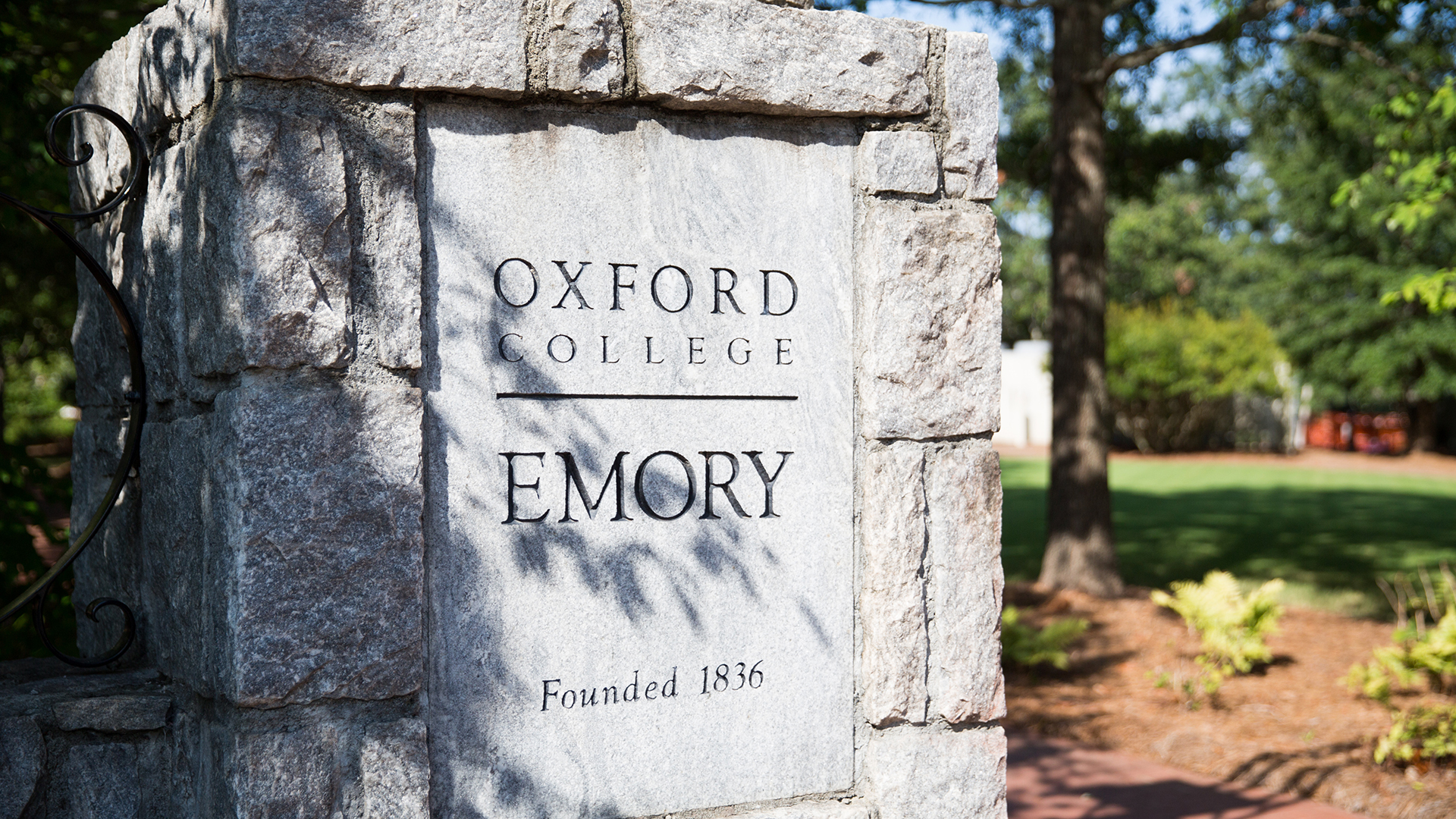 Oxford College Awards 2021
Oxford College is proud to recognize these students for their outstanding scholarship and leadership, in cooperation with Phi Eta Sigma Honor Society. Oxford also announces the recipients of several prominent named scholarships.
Academic Awards
Division of History and Social Sciences
Ina Jane Wundrum Anthropology Award
Recipient: Bridgette Garnache
The Ina Jane Wundrum Anthropology Award, named after Oxford's first anthropology professor, recognizes the student who is exceptional in both cultural and biological anthropology.
Economics Award
Recipient: Pranav Gupta
The Economics Award is given to a sophomore who has the breadth of economics courses taken at Oxford, stellar grades received in economics courses taken at Oxford, and the service in the area of economics at Oxford such as serving as a supplemental instructor.
Western Civilization Award in History
Recipient: Zoe Coblin
The Western Civilization Award in History is given to someone who writes excellent essays, who has a broad and substantive historical perspective, and who shows the makings of an outstanding classroom teacher.
History and Social Science Award
Recipient: Naomi Gonzalez
To qualify for The History and Social Science Award, a student must have taken five or more courses in the History and Social Science Division. These courses must have come from at least three different departments, and the student must also have an outstanding academic record in the courses and show promise for continued achievement.
Linguistics Award
Recipient: Sophia Rice
The Linguistics Award honors a high-achieving student who has shown insightful contributions and exceptional dedication to the study of linguistics at Oxford. Selection takes into consideration success in linguistics courses and empirical research completed outside the classroom.
William Cody Political Science Award
Recipient: Aman Bedi
 
The William Cody Political Science Award is named in honor of long-serving Oxford College professor of political science, William "Bill" Cody. Professor Cody earned the love and respect of students and colleagues alike with his passion for politics, his commitment to life-long learning, and his dedication to the Oxford community. The Cody Award is given annually to the student or students who best exemplify these values in their coursework in the field of political science.
Patti Owen-Smith Women's, Gender, and Sexuality Studies Award
Recipients: Mykiah Carrington-Zurita, Gabe Harr-Sibenlist, and Cierra Norman
The Women's, Gender, and Sexuality Studies Award (WGSS) is presented annually to a student who exemplifies a critical curiosity about the world and commitment to expanding the feminist imagination. The award winner will have taken at least two courses in the field of WGSS. They will be presented with a token that reflects their scholarly interests.
Outstanding Psychology Student Award
Recipient: Gracie Wilson
The Outstanding Psychology Student Award is given to a student who has taken at least three courses offered by the psychology department. The student must have made a valuable contribution to these courses in terms of participation and leadership and show great promise for future achievement.
Michael McQuaide Sociology Student of the Year Award
Recipients: Nicole Kassabian and Joanna Yu
The Sociology Student of the Year Award honors a high-achieving sociology student who has taken at least twelve hours of sociology classes in their time at Oxford and has maintained a 3.75 GPA average within those courses. Student selections are made based on grades, engagement, and a capacity to see the world through the sociological imagination, connecting daily life to larger institutional patterns.
Neuroscience and Behavioral Biology Award
Recipient: Donna Tsai
The award in Neuroscience and Behavioral Biology recognizes a student who has not only excelled in classes associated with the major, but also demonstrated intellectual curiosity through independent research in the laboratory.
QTM Award
Recipient: Kevin Ding
The QTM award is given to a student who has participated in at least 1 course QTM plus a second department activity (a second course or SI position); demonstrated excellence through a 4.0 GPA in all department courses; shown interest in a QTM major or minor through advising discussions or a declaration; and exhibited exceptional potential to contribute to the field of quantitative analytics in the future.
Division of Humanities
English Award
Recipient: Jack Pflieger
The English Award is given annually to rising juniors who plan to major in English at Emory College, who have performed well in their English courses while at Oxford, and who show a genuine passion for literature and writing.
The Mark Twain German Studies Award
Recipient: Laurel Ivanoski

The Mark Twain German Studies Award honors a student who has shown a dedication to German studies through their varied coursework, engagement outside of the class in German Club, German-related events, and/or study abroad opportunities to a German-speaking country. Especially important for this award is continued resilience in the struggle to learn German as a foreign language.
Music Award
Recipients: Emily Cui (Shouyuan Cui) and Ellen Wu (Ruiqi Wu)
The Music Award is given to a student who has shown excellence in the study of music for four semesters.
Logic Award
Recipient: Hannah Morrison
The Logic Award is presented annually to the highest-achieving student across all sections of Introduction to Logic. The award winner is presented with a copy of Thinking About Logic, a collection of classic essays on the philosophy of logic.
Philosophy Award
Recipient: Dylan Goldberg
The Philosophy Award is presented annually to the most outstanding prospective major or minor in philosophy. The award winner must exhibit outstanding performance across all philosophy courses taken at Oxford and must have taken at least three such courses. The philosophy faculty present the award winner with a book specifically chosen for them, based on their individual philosophical interests.
Excellence in Spanish Award
Recipient: Grace Johnson
The Excellence in Spanish Award requires consistent enrollment during four semesters in a Spanish course with final grades of 94 or higher. In addition to superior recommendations from Spanish professors, each recipient must display curiosity and passion for Hispanic culture, understand the need for cultural competence, and have consistently participated in extra-curricular events and work related to Hispanic culture while on Oxford's campus.
Oxford Writing Center Award
Recipient: Nithya Narayanaswamy
The Oxford Writing Center Award is given annually to writing consultants who have demonstrated exceptional commitment, creativity, and thoughtfulness in supporting the writing development of fellow Oxford students and in inspiring fellow writing consultants to deepen their own professionalism and reflective practice.
Humanities Award
Recipients: Luke Boston, Hannah Morrison, and Amy Xia
The Humanities Award is given by the whole division. The students must have taken courses in three different departments in the division and intend to major in a humanities discipline. Consideration is also given to the number of courses taken in the humanities and current GPA.
Arabic Studies Distinction Award
Recipient: Gabe Harr-Siebenlist
The Arabic Studies Distinction Award goes to a student who, while at Oxford College, has taken four courses of Arabic and at least one MESAS course and has excelled in all of them. Additionally, the awardee must show profound intellectual curiosity with regard to the language, cultures, and histories of the Arabic-speaking world.  
Division of Natural Science and Mathematics
Biology Faculty Award
Recipients: Jacky Chavez and Tiana Scott
This Biology Faculty Award is given to students who have taken several biology courses and have provided valuable service to the department. 

Curry T. Haynes Biology Award
Recipient: Alex Zhong
This award is given in honor of Curry T. Haynes, professor of biology at Oxford College, who was an inspirational teacher in the classroom and in the laboratory. It is given to students who have demonstrated a genuine passion for biology and have excelled in several biology courses beyond the introductory curriculum.
Chemistry Academic Excellence Award
Recipient: Drason Zhang
The Chemistry Academic Excellence Award is the top academic award given by the Chemistry Department. It is given to a student who has demonstrated a genuine passion for chemistry and has excelled in three or more chemistry courses at Oxford. This student is a role model for fellow classmates by exhibiting curiosity and positive contributions to classes and labs.
Chemistry Research Excellence Award
Recipient: Manish Bhatta
The Chemistry Research Excellence Award is the top research award given by the Chemistry Department. It is given to a student who has demonstrated a genuine passion and dedication to research. This student committed at least two semesters to work on a research project and presented the work to communities beyond the chemistry department. This student is a role model for fellow students by exhibiting curiosity and positive contributions to classes and labs.
Chemistry Service Award
Recipient: David Li
The Chemistry Service Award is presented to a student who has provided valuable service to the department and demonstrated a genuine passion for helping other students. The student who has gone above and beyond their assigned duties to support the Chemistry Department community.
Environmental Science Award
Recipient: Jerry Tang
The Environmental Science Award is given to a student who, while maintaining high academic standing and pursuing a degree in Environmental Science, has made significant contributions in the classroom, to the Environmental Science Department, and to the broader community.
William H. Murdy Natural Science and Mathematics Award
Recipient: Alex Zhong
This award is presented in honor of Dr. William H. Murdy who gave a total of 40 years of service to Emory University. It is given every year to a student who has excelled in natural science and mathematics, including coursework in at least 2 different departments within the division, with a minimum GPA of 3.7 in science and math courses, and who has made a significant contribution to the division. 
William Baird Physics Award
Recipients: Allison Grace Cartee and Jiayu (Echo) Sui
The William Baird Physics Award is given in honor of Dr. William Baird who taught physics at Oxford College for many years before his retirement in 2008. It is given to an outstanding physics student who exhibited an excellent performance in at least three courses offered by the department, showed curiosity and enthusiasm about the field, and made significant contributions to the department and the discipline.
Leadership Awards
The Gold and Blue Group: Campus Life Leadership Awards
Recipients: Aman Bedi, Sachi Bhasin, Madeline Bryce, Allison Cartee, Sonia Chang, Emily Cui, Chris Ejike, Lennox Elrod, Grace Engel, Bridgette Garnache, Dylan Goldberg, Adriana González, Sriya Karra, Hannah Kreuziger, Frances H. Lee, Justin Li, Jacob Lishnoff, Eleanor Liu, Tatiana Navarrete, Nithya Narayanaswamy, Antara Palkar, Anna Rhoads, Akash Shanmugam, Alan Sherman, Luke Sims, Balwant Singh, Sherry Tsui, Parth Virani, Wendy Wang, Gracie Wilson, Amy Xia, Sreyas Yennampelli, Annabelle Zekeri, Daren Zhang, and Alex Zhong

The Gold and Blue Group Leadership Awards recognize a select group of second-year students for their exemplary leadership and community service at Oxford College. 
Pierce Certificate in Leadership
Recipients: Miracle Ejidike, Sydney Gillespie, Eleanor Liu, Antara Palkar, Ayusha Shrestha, Sophie Torosyan, Annabelle Zekeri, and Alex Zhong
The Pierce Certificate in Leadership is presented annually to a cohort of second-year students who have completed the rigorous co-curricular and curricular requirements of the Pierce Leadership Certificate Program. Through this program, students learn the fundamental principles and practices of good leadership, acquire a greater awareness of issues of social justice, and become more committed to civic engagement and ethical action. 
Tarbutton Leadership Fellows
Recipients: Calvin Bell III, Harrison Goldberg, Jay Jones, Marian Moss, and Dana Smiley
Established through a generous gift by Hugh McMaster Tarbutton 84Ox in memory of his father, Hugh Tarbutton Sr. 52Ox 55B, this leadership program provides support for 3-5 current first-year students to develop distinctive academic, co-curricular, and/or experiential opportunities to develop their individual leadership capacities. A grant funds these students for a unique educational and leadership experience prior to their sophomore year that they design. Nominators consider students' demonstrated potential for excellence, both academically and in their future vocations. Classroom performance and GPA is a critical component of this assessment. Nominators are also encouraged to consider other building blocks of excellence and success, such as adaptability when confronted with a new or challenging environment/circumstance, time management skills, and excellence in team building or collaboration.
Scholarships
Lisa Friddell Award
Recipient: Abel Lindley
The Lisa Friddell Award was established in 1996 in memory of Dr. B. Lisa Friddell 86Ox 88C. The physicians and coworkers of Affinity Health Group in Albany, Georgia, funded the award to be given to a student who plans to pursue the study of medicine. The award goes to a rising sophomore who is an excellent student in science and mathematics.
Brad Edwards Scholarship
Recipients: Vrushali Thakkar and Muskaan Vohra 
Established in 1990 in memory of Oxford student Bradley Patrick Edwards by his parents, Mr. And Mrs. J. Joseph Edwards, and friends. The one-half tuition scholarship is presented to two rising sophomores at Oxford College with outstanding character and who cares deeply for his or her fellow students, school, and community as demonstrated by broad-based involvement and leadership. The recipient must maintain a 2.5 GPA while at Oxford.
Sammy Clark Scholarship
Recipient: Lenora Upchurch
The Sammy Clark Scholarship was established to honor former Oxford Chaplain Sammy Clark. It is awarded to an Oxford College student at the end of their first year for having exemplified the ideals of service and volunteerism through community involvement and personal initiative. The recipient has proven to be someone who is a servant leader and has exhibited genuine concern for the needs of their fellow human beings. 
Jennifer Evans Memorial Scholarship
Recipient: Ria Gupta
The Jennifer Evans Memorial Scholarship is awarded annually to a rising senior at Emory College. Jennifer Lea Evans, a 21-year-old Oxford College alumna and Emory College student, died in June 1995.  She had dreams of one day becoming a physician involved in children's rehabilitative medicine. The awardee must have aspirations to care for children in a health-related profession, demonstrated experience working with children, a 3.3 GPA, and a major in natural science or mathematics. The award is to cover educational expenses in his or her senior year at Emory College. Oxford College graduates are encouraged to apply.
Sara Gregory Memorial Scholarship
Recipient: Jaedyn Griddine
The Sara Gregory Memorial Scholarship was established by Sara's husband John Gregory, an English professor at Oxford College, to honor his wife who was a long-time College Librarian at Oxford. Sara's most important and lasting contributions to the College was her care and concern for the students and the entire Oxford community. The award provides financial support to a rising second-year student and an outstanding student employee of the library. 
John and Ouida Temple Scholarship
Recipient: Gracie Marie Wilson
This scholarship is awarded to one graduating sophomore student who has demonstrated extraordinary leadership and community engagement and also has a plan to continue in meaningful leadership roles at Emory College. Emory College established the scholarship in June 2003 in honor of vice president and chief operating officer, John Temple and his wife, Ouida. Two of the Temple's children are alumni of Oxford College.
Dr. and Mrs. Floyd C. Watkins Scholarship
Recipient: Jenna Holton
Named in honor of the late professor Floyd C. Watkins, Emory University Charles Howard Candler Professor of American Literature, to offer support to recipients defined in accordance with his wishes, this scholarship is awarded to a rising sophomore from the South who intends to pursue studies in the humanities at Emory College. The award involves a grant for each of the three final years of the student's undergraduate career. The recipient is determined in the spring by the English faculty with the approval of the other members of the Division of Humanities.
Woodruff Dean's Achievement Scholarship
Recipient: Wittika Chaplet
This scholarship is awarded to one sophomore and is a full-tuition, fees, and benefits scholarship to any of the undergraduate schools on the Atlanta campus. It is based on the Woodruff Scholar qualities of unselfish character, intellectual and personal vigor, outstanding academic achievement, impressive communication skills, significant leadership and creativity in school or the broader community, and clear potential for enriching the lives of their contemporaries at Emory University.
Abinta Kabir Scholarship
Recipients: Ved Ravindra Udare and Simran Fahima Hussain  
The Abinta Kabir Scholarship was established in 2017 in memory of Abinta Kabir 17Ox, who was a victim of the terrorist attack in Dhaka, Bangladesh, on July 1, 2016. The scholarship supports Oxford students who embody the true meaning of kindness and unity and are residents of South Asia or have demonstrated knowledge of Bangladesh history and culture.
VIRGIL Y.C. EADY SOPHOMORE SERVICE AWARD
Recipient: Hannah Carrington Kreuziger

The Virgil Y.C. Eady Sophomore Service Award was established 52 years ago in 1969. The Eady Award is the sole student award reserved for commencement and is presented to one sophomore student who has demonstrated outstanding and selfless service to the college community.