Don and Emily Saliers explore music, social justice for Oxford event
---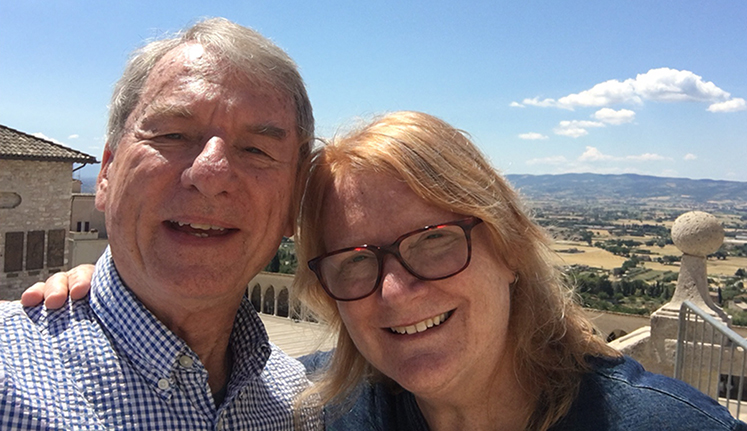 A father-daughter duo will present for Oxford College an evening all about music as a gift and a quest.
Singer-songwriter Emily Saliers 85C of the Indigo Girls will join a new stage partner during a performance in the Oxford College Chapel on Tuesday, Sept. 5, at 7:30 p.m. She and her father, Don Saliers, will lead the presentation "Sing Justice, Sing Life"—a mixture of songs and reflections from their musical journeys.
Their free presentation will feature Indigo Girls' songs alongside Psalms, a Duke Ellington hymn, and some new music from Emily, who just recently released her first solo album Murmuration Nation.
"We will share stories and songs out of our experiences that have taken us to places around the world and into the struggles for justice and spirituality," Don says.
The pair bring different musical backgrounds to their Oxford presentation. Don, a composer and church musician, writes and arranges for congregations. Emily typically performs in settings outside the church. Emily has been half of the Indigo Girls for more than 30 years, while Don is Emory's Theologian-in-Residence and William R. Cannon Distinguished Professor of Theology and Worship, emeritus.
Don describes their presentation as an evening all about music as a gift and a quest.
The father-daughter duo co-authored the book A Song to Sing, a Life to Live: Reflections on Music as Spiritual Practice, released in 2006. Reflections from the book and from their performing experiences will be woven into their presentation as they explore the ways music closely ties to justice and truth.
The concept of music as a spiritual practice resonates with Oxford Chaplain Lyn Pace. He brought Emily and Don to Oxford as part of the Pierce Program in Religion's Chaplain's Lecture Series. This Oxford Studies event is hosted in conjunction with Oxford Religious and Spiritual Life.
"I really believe in the power of music to enhance our creativity but also to transform," Pace says. "Music has the capacity to shape us in sacred ways and free us to be our most authentic selves."
A lot of his work as chaplain highlights certain practices that can help transform our lives, each other, and our communities, Pace explains. He hopes "Sing Justice, Sing Life" will do more than entertain students and other audience members.
"I hope this will point those listening to something beyond themselves, and orient our lives toward justice and peace," he says. "Don and Emily Saliers, each in their own way, have the ability to help us become more fully who we have been created to be, and that's a real gift."
For more information about this event, email Lyn Pace.
Share This Story