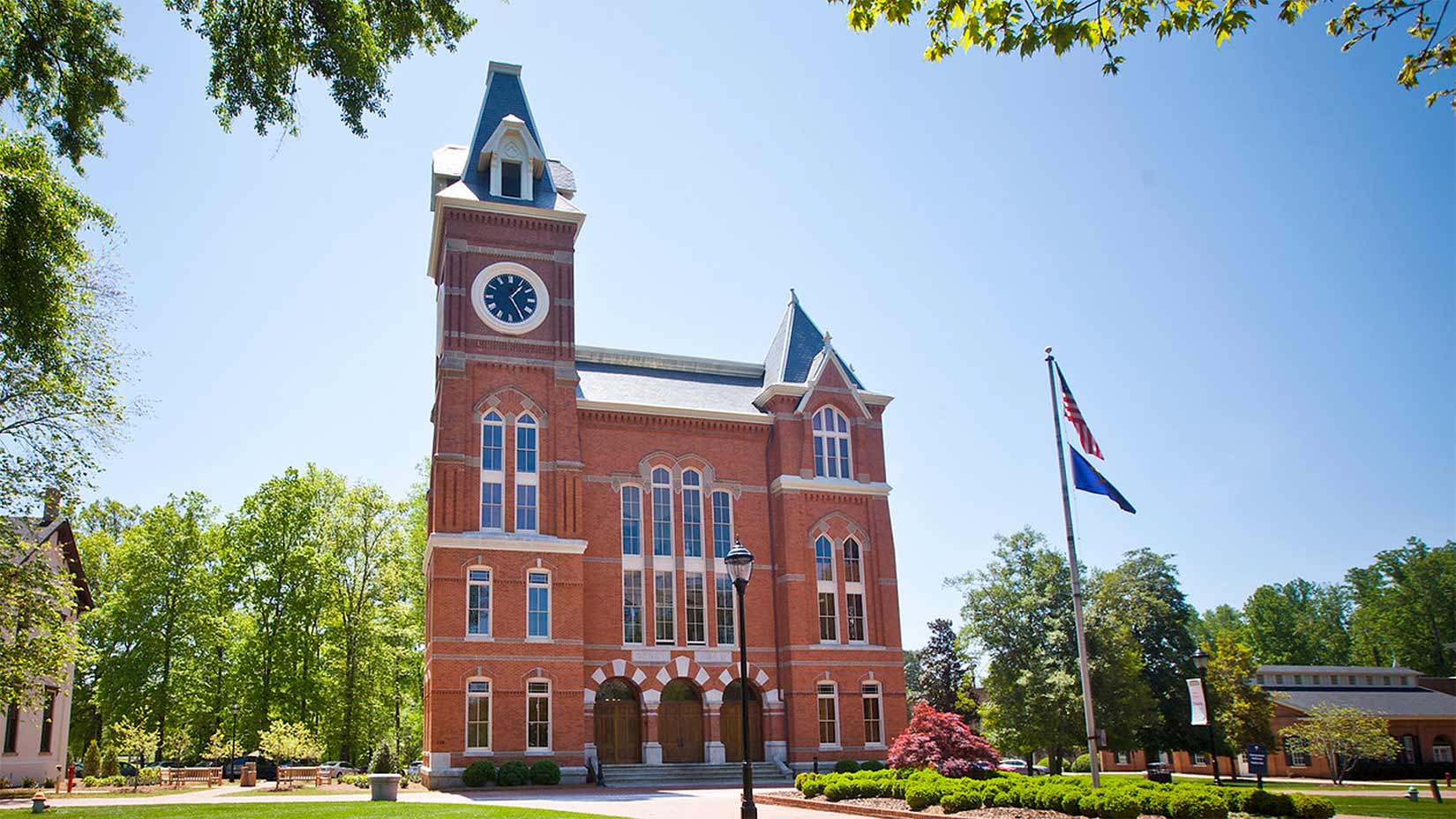 Alumni Leadership
Oxford alumni provide counsel to the college through two alumni leadership groups, the Board of Counselors and the Alumni Board.
Board of Counselors
Oxford's Board of Counselors provides focused counsel to college leaders regarding issues it considers to be the school's highest current priorities.
The Board of Counselors offers guidance in two ways:
The Board of Counselors reviews college and board performance in its previous attempts to address priorities.
The Board of Counselors envisions the future actions (immediate and long-range) that the board and the college will take to address priorities.
Board of Counselors Membership
Chair
Jonathan Eady 84Ox 86C
Chair-Elect
Michelle Sims 84Ox 86B
Immediate Past Chair
Lynne Borsuk 81Ox 83C
Faculty Rep
Dr. Annette Neuman 13G
Secretary
Kim Chenevey 02Ox 04B
Mr. Henry Fitzpatrick Anthony 71Ox 73C 88B
Mrs. Amanda Arrendale
Mr. Chelsea L. Bartenfeld 64Ox 66C
Mr. Warren I. Brook 70Ox 72B
Mr. Dirk Lamar Brown 90B
Mr. Keith Nolan Burns 99Ox 01B
Mr. Robert Haynes Chidsey 88Ox 90C
Dr. Kenneth Edwin Carter 87Ox 89C, Interim Dean
Mr. Charlie Edward Cloaninger III 91Ox 93C
Mr. Ralph Delano Cook, Jr.
Mrs. Cheryl Fisher Custer 81Ox 83C
Judge Jose Antonio DelCampo 89Ox 91C
Mr. W. Michael Dennis 67Ox 69C
Mr. David D. Duley 96Ox 98B
Dr. John Askew Fountain 73Ox 75C 79M 83MR
Mrs. Erin Julia Fraser 89Ox
Dr. Michael Scott Garner 90Ox 92C
Mr. Kevin Andre Gooch 99Ox 01C
Mrs. Susan Atkinson Gregory 77Ox 79C
Mr. Timothy Michael Harvey
Ms. Loucy Tittle Hay
Mr. Zaraif Ayaat Hossain 13Ox 16C
Mr. Bruce Kevin Howard 85Ox 88C
Dr. Robert Frank Ingram 65Ox 67C
Mr. Paul P. Jackson, Jr. 82Ox 84B
Ms. Michelle Johnson
Mr. Steven Candler Kapp 87Ox 89C
Mr. Kevin David Kell 75Ox 77C
Dr. William Rodgers Kitchens 63Ox 65C 69M 74MR 80
MR Mr. William Reid Mallard 84Ox 86C
Dr. Miles Herbert Mason III 67Ox 68C
The Rev. Michael Donovan McCord 06T
Dr. Michael M. McQuaide I
Mr. Alexander G. Morehouse 63C
Mr. Ivan Sigmund Mosley, Jr. 66Ox 68B
Mrs. Carol Keatley Norton 65Ox 67C 69G
Ms. Chinonyerem Chi Okezie 98Ox 00C
Dr. Fred Langley Palmer 52Ox 57M 58MR 60MR
Mrs. Rakhee Vora Parikh 99Ox 01C 02PH
Ms. Jennifer Lynn Purdon 77Ox 79C
Mr. Hugh McMaster Tarbutton, Jr. 84Ox
Mr. Andrew W. Tatnall 76Ox 78B
Dr. Bradley S. Taylor 83Ox 85C 88PH 93M
Mr. Jason P. Taylor
Mr. Michael A. Vardas, Jr. 80Ox 82B
Mr. Randall Gregory Vickery 82Ox 84C
Mr. Arthur Mann Vinson 66Ox 68C
Mr. Mitchell A. Waters 81Ox 83C
Dr. Rev Avis Williams 78Ox 98C 08T 18T
Mrs. Kelly L. Williams
Mr. Mayo Malone Woodward, Sr. 90Ox 92C
Dr. J. Max Austin, Jr. (61Ox 63C 69MR)

Ms. Ellen Agnor Bailey (63C 87B)

Ms. Anne E. Bigelow (74Ox 76N)

Mr. Russell W. Boozer, Sr. (75Ox 77B)

The Rev. Dr. Albert E. Clarke (55Ox 57C 60T)

Mr. William Thomas Daniel, Jr. (73Ox 75C)

Dr. Robert Trulock Dickson (72Ox 74C)

Judge Denny Michael Dobbs (65Ox 67C)

Dr. Carroll E. Eddleman (70Ox 72C 73G 76G)

Mr. J. Joseph Edwards (54Ox 56B 58B)

Mr. Arthur F. Evans (67Ox 69B)

Mr. R. Dean Fowler (55Ox 57C)

Mr. Robert R. Fowler III

Mr. James Milton Gillespie, Jr. (59Ox)

Dr. Martha Judith Greer

Mr. William Marvin Hardy III (61Ox 63C 66L)

Mrs. Zoe McFee Hicks (63Ox 65C 76L 83L)

Mr. Norman G. Houston III (62Ox 64C)

Mrs. Helen Fogle Jones (64Ox 67C)

Ms. Diane Allgood Kirby (67Ox)

Dr. Wallace C. Lail (59Ox 62C)

Mr. Henry Amis Mann (62Ox 64C)

Dr. William Brown Nipper, Jr. (69Ox 71C)

Dr. Tommy L. Owens (59Ox 61C 65D)

Mr. J. Eric Pike (88Ox 90C)

Mr. John McDowell Platt (74Ox 76C)

Mr. Eugene M. Rackley III (55Ox 58B)

Mr. Bartow Dan Ragsdale (59Ox)

Dr. Ralph M. Reeves (59Ox 61C 65M 66MR 69MR)

Dr. E. Vann Roberts (59Ox 61C)

Mr. John Webster Robitscher (81Ox 83C 92PH)

Mr. Kyle D. Smith, Jr. ((59Ox 61C)

Ms. Ina Louise Thompson (61Ox 63C)

Mr. Lin H. Thompson, Jr. (57Ox 60C)

Dr. Kim Wilder-Dyer (78Ox 80C 83M)

Dr. George L. Zorn, Jr. (62Ox 64C 68M)
Stephen Bowen
Dana Greene 71G
Douglas Hicks
Mr. Michael Silverio 98Ox 00C
Mr. Kevin Smyrl
Alumni Board
Oxford's Alumni Board supports and promotes the college's educational excellence in two ways:
The Alumni Board creates and sustains a framework for Oxford to communicate regularly with and serve its alumni.
The Alumni Board allows alumni to communicate with and serve the college.
Alumni Board Membership
Michael Silverio 98Ox 00C, President
International Relations
Field Supervisor, LPL Financial
Alpharetta, GA

John McColl 08Ox 10B, President-Elect
Business Financial Advisor
Atlanta, GA

Yaritza Morris 98Ox 01C, Secretary
French and Spanish World Language Educator
LaPlata, MD

Steve Weyer 00Ox 02C 10L10T, Philanthropy Chair
English Major
Attorney - Estate Planning
Atlanta, GA

Curtis Cotsonis 09Ox 11C, Past President
Double majored in Spanish and Linguistics
Localization Project Manager at Mailchimp
Atlanta, GA
Sandra Aguilera 15Ox 17C 22PH
Decatur, GA
Neha Ali 20Ox 22C
Bedford, TX
Teresa Ball 96Ox 98C
Alexandria, VA
Amanda Boor 81Ox
Tallahassee, FL
Jeff Bragg 75Ox 77C
Marietta, GA
Tara Brooks 10Ox 12C
Orlando, FL
Harrison Campbell 21Ox
Memphis, TN
Jack Chapman 14Ox 16B
Rye, NY
Annie Chappell 19Ox 21C
Decatur, GA
Haseena Charania 11Ox 13C
Decatur, GA
Kim Collins 95Ox 97C
Duluth, GA
Tom Dean 79Ox 81C
Alpharetta, GA
Lisha Kowatch Ellerbee 98Ox 00C
Winston, GA
Erin Poe Ferranti 96Ox 98N 01N 01PH 13G
Suwanee, GA
Brian Friedman 97Ox 99C
Cherry Hill, NJ
Miller Getz 89Ox 91C
Brookhaven, GA
Stephanie C. Harris 86Ox 88C
Atlanta, GA
Willis Hao 18Ox 20C
Alpharetta, GA
Berkley Jennings 92Ox 94C
Atlanta, GA
Rachel Johnson 97Ox 99C
Acworth, GA
Sahiti Karempudi 05Ox 07C
Austin, TX
Anya Kasubhai 22Ox 24C
Tenafly, NJ
Simon Kresberg 23Ox
Long Island, NY
Adam Leibowitz 92Ox 94C
Atlanta, GA
Sheri Levine 82Ox 84C
Jupiter, FL
Douglas Long 92Ox 94C
Ardmore, PA
Suleman Malik 09Ox 11C
Selden, NY
David Markham 89Ox 91C 95M
Decatur, GA
Tee May 87Ox 89C
Decatur, GA
Monica McCoy 01Ox 03C
Conyers, GA
Ellen Meier 88Ox 90C
Atlanta, GA
John Mills 87Ox 89C
Decatur, GA
Sherene Patel 06Ox 08B
Alpharetta, GA
Amanda Phillips 92Ox 94C
Jonesboro, GA
Mark Phillips 75Ox 77B
Atlanta, GA
Necol Ronda-Brown 11Ox 13C
Savannah, GA
Arman Seth 12Ox 15C
Decatur, GA
Meera Sethi 23Ox
Jim Smith 76Ox
Macon, GA
Josh Stack 95Ox 98C
Asheville, NC
Kay Weber 74Ox 76C
Atlanta, GA
Terez Whatley-White 04Ox 06C
Decatur, GA
Kim Worrell Sumlin 83Ox 85C
Atlanta, GA
Hope Taylor 20Ox 22C
Las Vegas, NV
Emily Wilson 78Ox 87G
Mobile, AL
Gracie Wilson 21Ox
Tallahassee, FL
Jack Wissner 69Ox 71C
Atlanta, GA
Wes Yamada 22Ox 24B
Honolulu, HI