Sustainability at Oxford
Oxford strives to be a community that embraces sustainability and weaves its principles into everyday life on campus.
Our Values
We work to teach and live out sustainable economic, social, and environmental practices that provide a healthy and meaningful life in our community. Our campus actions reflect our interdependence as a local and global community and acknowledge our impact on future generations.
As part of Emory University's broader commitment to sustainable practices, Oxford has made many strides advancing energy efficiency, water conservation, alternative transportation, sustainable food, waste reduction, and sustainability education and outreach. Emory founded the Office of Sustainability Initiatives in 2006, but sustainability-related work at the university began more than a decade before. We continue work on restoring our global ecosystem, fostering healthy living, and reducing our impact on the local environment.
Building a Legacy
Our newer campus buildings are designed to meet the US Green Building Council's LEED (Leadership in Energy and Environmental Design) certification standards. Currently, all Emory University construction projects must at a minimum meet LEED Silver Certification. Murdy, Elizer and Fleming residence halls are all Gold LEED certified.
If you've seen our tree-lined campus Quad and grounds, you won't be surprised that the Arbor Day Foundation's Tree Campus USA program designated Oxford a Tree Campus in 2015. This program helps colleges and universities establish and sustain healthy community forests.
The west side of the campus leads to the Hearn Nature Trail and the woods that Oxford students have worked diligently to help restore over the years.
Sustainable Transportation
Oxford boasts a pedestrian-friendly campus with multiple sustainable transportation options to the local and metro areas. Having a car on campus is certainly optional for students.
Transportation for students
Diverting Waste from Landfills
We're committed to Emory's waste-diversion program and have implemented a zero-waste initiative. That's why you won't need a tray in our dining hall. "Zero waste" is defined as the diversion from landfills of at least 90 percent of generated waste. 
We provide recycling and composting services through a close partnership with Emory Recycles. Containers located across campus encourage students, faculty, staff and visitors to recycle accepted materials.
You can make a difference before you even arrive on campus by bringing items for your room that encourage sustainable behaviors, use less energy, and are made from recycled or renewable materials.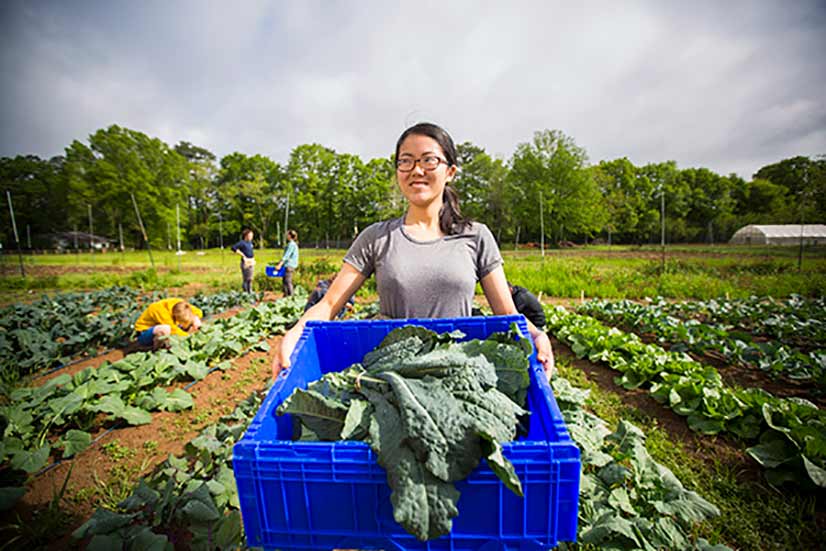 Oxford Organic Farm
Just 700 feet from our campus sits a unique example of our commitment to sustainability—Oxford's organic farm. The 11-acre farm began operation in 2014, when we transformed a grassy field into a thriving, colorful patchwork of crops and a living laboratory for students.
We define sustainability as meeting the needs of the present generation without compromising the well-being of future generations.